Toyota Has A Rich History In American Motorsports
Having finished its 20th year of American professional auto racing, Toyota has established a rich racing history in a relatively short period of time.
The 2002 CART Manufacturer's and Driver's Championships add to a successful past that has witnessed Toyota victories at the Daytona 24 Hours, the 12 Hours of Sebring, the Pikes Peak Hill Climb and the Baja 500 and Baja 1000. Beginning in 2003, the manufacturer will look to add the greatest prize in American motorsports, a victory at the Indianapolis 500, during its first season in the Indy Racing League IndyCar Series.
Toyota's place in American auto racing is not limited to major victories and championships. It extends from event sponsorships and engine development to factory-backed teams and grassroots efforts.
The 2002 season saw Toyota-powered cars earn 10 victories and 12 pole positions in 19 CART FedEx Championship Series races to easily win the 2002 Manufacturer's Championship. Toyota-powered Champ Car racer Cristiano da Matta won seven races and seven pole positions on his way to the CART driver's title and his selection as American auto racing's "Driver of the Year."
In 1967, Toyota got its first taste of American auto racing when it joined forces with Carroll Shelby to develop a race-modified Toyota 2000 GT for campaigning in the Sports Car Club of America (SCCA) C-Production class. While Porsche was its main competitor, it took only a short period of time until the 2000 GT was consistently earning victories. The program, however, was discontinued after one year of competition.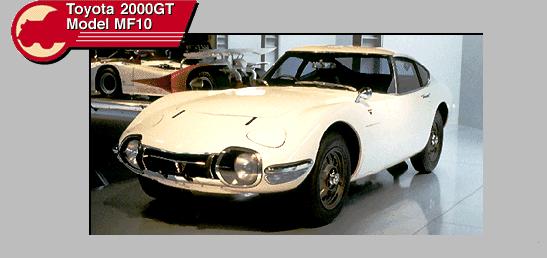 It was not until 1976 that the manufacturer re-enter the motorsports arena, introducing a Toyota Celica GT Liftback as the "Official Pace Car" of the inaugural Long Beach Grand Prix event. Since then, a Toyota has paced every Toyota Grand Prix of Long Beach.
In addition to the pace car, six Celica GT Liftbacks were identically prepared to pit three professional female drivers with three men from major automotive publications. The event was billed as Toyota's "Race for Youth," and a $12,000 purse was divided among a variety of Los Angeles-area youth organizations.
This race became the prototype for the annual Toyota Pro/Celebrity Race that is in its 27th year as a featured part of the Toyota Grand Prix of Long Beach. Celebrities including Clint Eastwood, Ashley Judd, George Lucas, Tim Allen, Cameron Diaz, Gene Hackman, Woody Harrelson, Jay Leno, Matt LeBlanc, Joe Montana and John Elway, to name a few, have participated alongside professional drivers in this 10-lap race for charity. Over the past decade, more than $1 million has been raised for children's hospitals in Southern California.
In 1980, Toyota increased its participation to become title sponsor of the Long Beach event. Today, the Toyota Grand Prix of Long Beach is the largest and most popular event on the CART Champ Car schedule.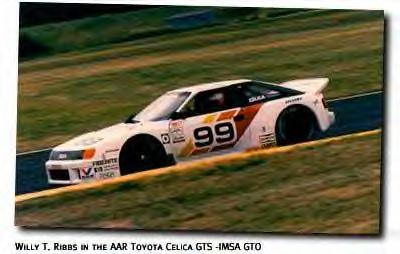 Toyota reached a new level in auto racing in 1983 when it joined forces with racing legend Dan Gurney and All American Racers (AAR) to put Celicas into professional road-racing competition. Toyota entered the International Motor Sports Association (IMSA) in the "under-three-liters" GTU category. Based on the success of this effort, with 10 wins in three seasons, the team moved up to the "over-three-liter" GTO category full-time with turbo-charged Celicas in 1986. The GTO Celicas captured 15 race wins from 1985-1988 (drivers Chris Cord, Dennis Aase and Willy T. Ribbs each scored six or more wins), and Toyota became the first Japanese nameplate to win the manufacturer's and driver's championships in 1987.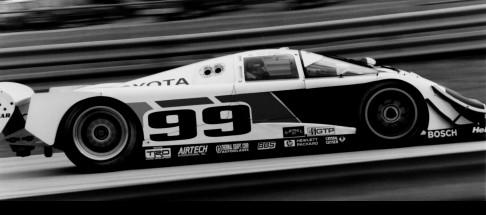 The Toyota/AAR team moved up the IMSA ladder once again in 1989 to the Grand Touring Prototype (GTP) class, the elite level of American road racing. The factory-sponsored team captured four victories and four track-qualifying records in 1990, serving notice to the competition that Toyota and its American-built Eagle GTP cars were strong contenders. At the time, the competition included Chevrolet, Jaguar, Nissan and Porsche. The team's success continued in the early '90s, with victories at the 12 Hours of Sebring (twice) and 24 Hours of Daytona endurance races, and both driver's and manufacturer's titles in 1992 and 1993. The Toyota team holds the all-time record for consecutive GTP victories with 17, and won 19 of its last 21 races.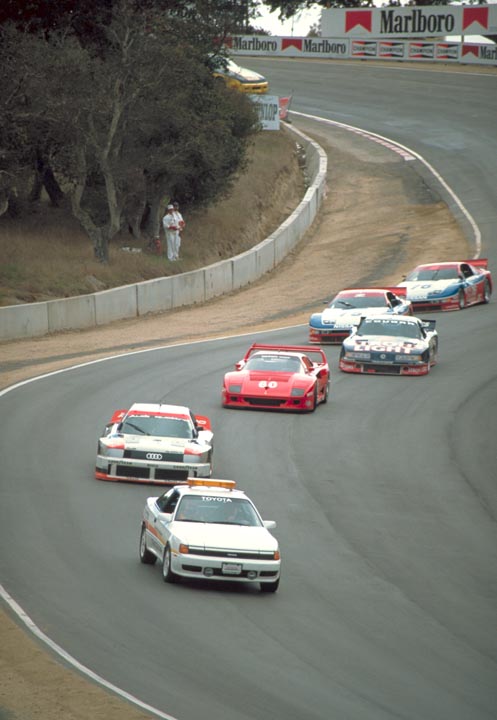 Celica All-Trac Pace Car
The same year Toyota began its relationship with Gurney, it also joined efforts with Precision Preparation Inc. (PPI) and team owner Cal Wells III to build Toyota trucks for competition in desert and stadium off-road events. From 1983 to 1994, the Toyota/PPI team dominated the Mickey Thompson Off-Road Stadium Series (MTEG), earning 11 manufacturer's championships and nine driver's titles with Ivan "Ironman" Stewart and Rod Millen accounting for three each, brother Steve Millen with two, and 19-year-old Robby Gordon for one. Stewart also navigated the team through the desert to garner 27 wins and seven championships in the SCORE International Off-Road desert series.
In 1989, Toyota began a successful relationship with Atlantic series president and CEO Vicki O'Connor to become the title sponsor of the Toyota Atlantic Championship. Toyota is also the spec-engine supplier in the premier open-wheel training ground for some of auto racing's most promising young drivers. As a source of "champions before they are champions," the list of Toyota Atlantic alumni includes Michael Andretti, Bobby Rahal, Jimmy Vasser, Jacques Villeneuve, and Sam Hornish Jr. Each privately owned chassis is powered by a 1.6-liter, four-cylinder, 16-valve, twin-cam Toyota 4A-GE engine. Toyota continues its support of this world-renowned North American series, which is celebrating its 30th year of competition in 2003.
From 1994 through 2000, Toyota partnered with Rod Millen to become "King of the Hill" in claiming six Unlimited Class championships in the Pikes Peak International Hill Climb. Millen and the Toyota Celica still hold the overall world record (10:04.06) set in 1994.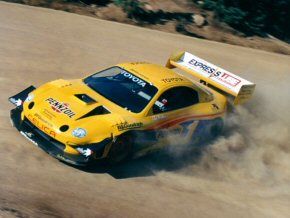 Toyota's motorsports involvement grew to a new level in 1996 when the manufacturer decided to go open-wheel racing in the CART Series with partners AAR and PPI. The program's early struggles eventually led to its first victory in 2000 at The Milwaukee Mile with Juan Montoya and four-time champion Target Chip Ganassi Racing. The formidable program went on to win five races that season and followed it up with six wins in 2001. Toyota's CART program peaked in 2002 as the manufacturer dominated the series with Toyota drivers finishing one-two in the championship (Cristiano da Matta and Bruno Junqueira) and Toyota leading the series in every major category. Overall, Toyota-powered Champ Cars won a series-high 21 races over its last three seasons of competition.
Fresh off conquering the CART series, Toyota takes on its greatest American racing challenge in the 2003 Indy Racing League IndyCar Series and its first appearance at the Indianapolis 500. In preparation for that challenge, Toyota has affiliated itself with some of the greatest names in auto racing history including Roger Penske (Marlboro Team Penske), A.J. Foyt (A.J. Foyt Enterprises) and Chip Ganassi (Target Chip Ganassi Racing). Proven winners Kelley Racing and Mo Nunn Racing will join them in the Toyota ranks.
Since its inception in 1997, Toyota has been a force in the Championship Off Road Racing (CORR) series. The Toyota Tacoma has dominated the Pro-Lite class, winning the driver's and manufacturer's championships in each of the last six years. Teammates Johnny Greaves and Jeff Kincaid have claimed seven titles over that time, with both taking championships in 2002. Greaves won the Pro-4 title in his Tundra 4x4 (to go along with his Pro-Lite championships in 1997-99), and Kincaid won his third straight crown.
In 2000, Toyota made its first move into the NASCAR ranks with the introduction of its V6-powered Celica Goody's Dash program. Robert Huffman helped make Toyota a legitimate contender for the series title by its second season and placed second in the championship in both 2001 and 2002. His victory at Kentucky Speedway in 2001 was the first by an overhead-cam, multi-valve engine in NASCAR history.
In 2002, Toyota again made history by fielding the first manufacturer-supported Funny Car in NHRA competition. The Toyota Celica Funny Car was driven to a fifth-place finish overall by Bruce Sarver for Alan Johnson Racing.
In February 2003, Toyota made news throughout the motorsports world when it announced its entry into the NASCAR Craftsman Truck Series beginning in 2004. Toyota will become the first manufacturer to be invited into the NASCAR professional racing ranks outside of the original domestic U.S.-based manufacturers.
Powering all of Toyota's American racing programs is Toyota Racing Development (TRD), U.S.A., in Costa Mesa, Calif. A subsidiary of Toyota Motor Sales, TRD serves in a dual capacity as the North American racing arm for design, development and assembly of Toyota's factory racing engines. It is also the source of high-performance aftermarket products for Toyota vehicles, for both street performance and grassroots racing. From the racetrack to the aftermarket product segment, TRD plays a key role in providing Toyota with an enhanced performance image.
Although Toyota race cars and race trucks compete at the highest levels of motorsports, the manufacturer's commitment to motorsports begins at the grassroots level. Through contingency sponsorship of amateur racing, Toyota embraces the competitive spirit that drives racers from the entry levels through to the professional ranks.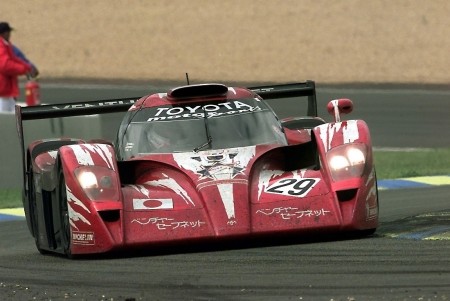 Taken from Toyota Motorsports USA all rights reserved